2 Bedroom House for Rent
122 N Bryan Ave, Bloomington, Indiana 47408
very close to Indiana University
Already rented
Rent: $1090/month Deposit: $1090
Call 812-720-3011 with your questions or to get a tour of this house
Easy walking/biking distance to IU, grocery shopping, the largest local shopping mall, many restaurants and bars, the IU Cyber Infrastructure building, and near bus stops for both IU and Bloomington Transit.

Indiana University campus is this color on map below
The city bus runs all along 3rd Street; the IU bus runs at the edge of campus on Union. Campus ID works for both.
Good-sized windows — lots of light
Wall Air Conditioner
Washer/Dryer
Gas furnace
Full bathroom with tub/shower
Full kitchen

Refrigerator
Stove
Garbage Disposal
Dishwasher

Off-street parking in driveway
Pets can be OK. Ask us about your specific pet(s).
Mature trees
Vegetable garden OK
Quick, competent, in-town maintenance by landlords
Excellent neighborhood
Excellent, diverse schools (debatably the best in Bloomington): University Elementary, Tri-North Middle School, Bloomington North High School
International students welcome (lots of nearby international food shopping and restaurants)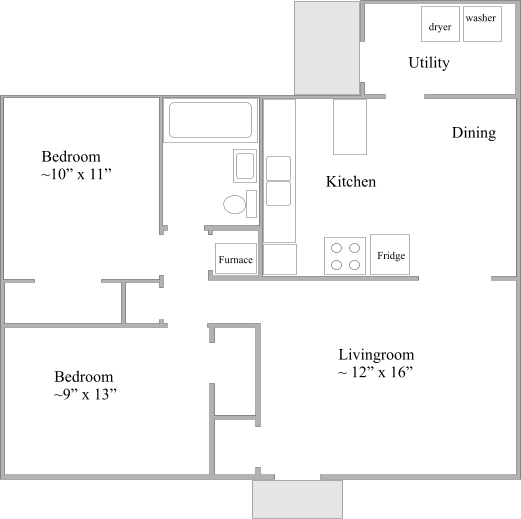 You can almost throw a frisbee to the edge of IU, but not quite.
Fenced back yard with small shed - 6ft (2m) tall wooden fence - excellent privacy
Hardwood floors in livingroom, hall and bedrooms
About 800 sq. ft.
Click on any of the images below for an enlargement. Some of the panorama images look bigger than the actual room.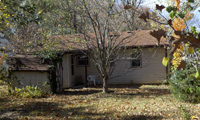 Here is a copy of our current lease.
If you are interested in renting one of our houses, we ask you to fill out a tenant application. If it's more convenient, you can answer all the questions on this application in an email to paul@paulsmedberg.com
In some cases we ask for a co-signer who would fill out our co-signer's guarantee.. Reasons we'd ask for a co-signer include:
if you are under 21, or
have no history of residential rentals, or
are employed less than 40 hours per week, or
are an undergraduate student, or
if we discover any negative rental history when checking your credit or references.
We generally issue our leases for a 1-year period, from near the beginning of August through the end of July. Specific start and end times may vary depending upon previous rental periods or other circumstances.
If you'd like to lease for a shorter period (such as August through May), just contact us to determine the partial year monthly rate.
If you have any questions, call Paul at 812-720-3011. We'd be happy to show you the house or houses you're interested in. Or email paul@paulsmedberg.com